Art Not Oil has mobilised against Big Oil cultural sponsorship since 2004. It was a Rising Tide UK campaign from that date until 2013, when it became a coalition of autonomous organisations united around the aim of ending oil sponsorship of the arts, and sharing its resources as the Art Not Oil Coalition. See the Member Groups page for details of each organisation
Contents
Joint Statement
We represent a cross-section of people - artists, cultural event and gallery-goers, environmentalists, human rights activists and others - who believe that oil company logos represent a stain on our cultural institutions.
 
Oil companies cultivate arts and culture sponsorship relationships to help create a 'social licence to operate'. This contributes to the veneer of legitimacy that enables them to keep expanding operations at a time of climate crisis and to stifle the demands for justice of those communities who live on the frontline of their destructive, polluting operations.
 
Only a decade ago, tobacco companies were seen as respectable partners for public institutions. That is no longer the case. It is our hope that fossil fuel companies will soon be seen in the same light. The public is rapidly coming to recognise that the sponsorship programmes of BP and Shell are means by which attention can be distracted from their impacts on human rights, the environment and our global climate.
 
Breaking the sponsorship link between oil companies and arts institutions will not alone prevent disasters such as the devastating tar sands projects being inflicted on the Indigenous communities of Alberta, Canada. It will not bring justice where it is due, for example, for the pollution and destruction inflicted on the people and lands of the Niger Delta and the Gulf of Mexico.
 
But by creating an informed public debate questioning the acceptability of associating these companies with our respected and much-loved cultural institutions, we strengthen attempts to hold the fossil fuel industry accountable in political and financial spheres.
 
We understand that securing adequate funding is challenging for many arts and cultural institutions in the current climate, but believe that it is vital for the very future of a free and independent arts sector that institutions stick to their principles and show leadership on moral issues such as this.
 
The groups in the Art Not Oil coalition invite others to work with us directly and indirectly to end public arts and culture bodies promoting oil company interests. This is an essential step towards ending the stranglehold these companies have on the corridors of power, which is a major obstacle preventing the transition to a fair and low-carbon society.
Art Not Oil, 2004-14: the story so far

Art Not Oil has mobilised against Big Oil cultural sponsorship since 2004. It was a Rising Tide UK campaign from that date until 2013, when it became a coalition of the various UK-based groups using diverse creative means to see an end to such sponsorship. Here's a whistle-stop story of how we got this far; (click on the pdf below it for the epic version!)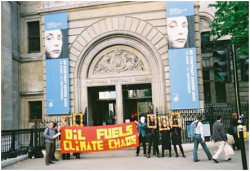 Back in 2003, the direct action-focussed, climate justice-seeking group London Rising Tide (LRT) began to focus on BP's sponsorship of the National Portrait Award, as part of its contribution to the Baku-Ceyhan Campaign.
2004 saw 'Greenwash or Us: the 1st Annual Exhibition of Resistance to Big Oil and the Corporate Hijacking of 'the Arts'', held in a squatted Camden shopfront, transformed into an 'art not oil' exhibition of paintings, photographs and sculptures to coincide with the Portrait Award exhibition.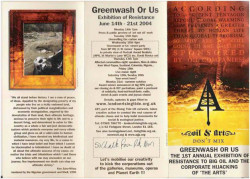 Always alongside this campaign activity – the performances and protests in galleries, museums and opera houses, the postcards, stickers, press releases and courteous (though almost entirely unacknowledged) letters and emails to artists as well as to bosses and employees of sponsored institutions, the strong connection between conscious art and a rapidly emerging radical movement for climate justice in the UK personified initially by Rising Tide, and also by Climate Camp and Plane Stupid - always alongside this was the patient gathering of artworks on the website.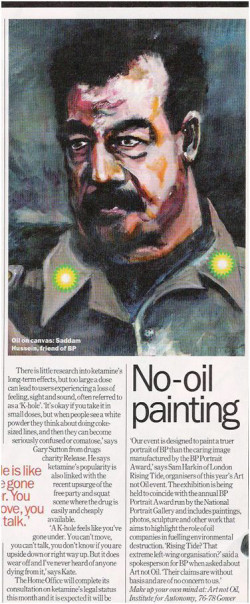 LRT and Friends of the Earth's campaign against Shell's sponsorship of the Natural History Museum's 2007 'Wildlife Photographer of the Year' Award was multilayered and collaborative. For us, it involved theatrical visits to the Museum and the creation of 'Shell's Wild Lie', which also visited the Museum and toured widely (including to Aberystwyth Arts Centre at the same time as the NHM's exhibition was on display there). There was a strong, creative campaign fought in Bristol and Plymouth. After a 2 year trial, Shell's sponsorship deal was not renewed.2005 and 2006 saw the ANO exhibition travel all over the UK, including a squatted social centre in London's west end, a students' union in Edinburgh (to coincide with the anti-G8 mobilisations of June 2005), a community arts centre in Bethnal Green, the first Climate Camp at Drax in Yorkshire, and even a reclaimed fish market in Northampton. The exhibition also tailed the BP Portrait Award, turning up on the NPG's doorstep on the evening of its awards ceremony in 2005, then following it on its own tours, popping up in Newcastle, Edinburgh and even the oily heartland that is Aberdeen.
So 2008 got Art Not Oil – now something of a veteran campaign, and a stand-alone group, though with strong support still from London Rising Tide - off to a strong start. Later that year, ANO launched a spoof leaflet and press release in response to Shell's sponsorship of the National Theatre's production of 'Oedipus'. The spoof – an artfully worded text claimed that the NT wanted to use the opening of the play to kickstart a public debate about oil company sponsorship of the arts. It resulted in a piece in The Stage, the theatre world's journal of record, and on one night when we were leafleting in full Greek tragic regalia, a supportive audience member turned out to be Guardian blogger Chris Wilkinson, whose piece headed 'The National Theatre should clean up its act and ditch Shell'.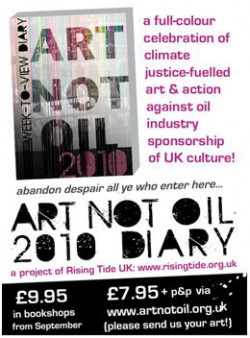 A desk diary was produced in 2010 as a way to celebrate Art Not Oil's longevity, not to mention the extraordinary breadth and sustained quality of the work it had been able to feature over the years. The Deepwater disaster in the Gulf of Mexico in April that year triggered widespread revulsion and galvanised large number of people already active on climate change and the systemic abuses carried out by the oil and gas industry. Hand-in-hand went growing awareness that the extraction of tar sands oil in Alberta, Canada looks to be make or break for the climate, as well as being nothing short of genocidal for those unfortunate enough to live on land signed over to the industry. As Big Oil was engaging in an ever more desperate scramble for new sources of fossil fuel energy (not least in the Arctic, but also in places like the Gulf of Mexico), groups in London weren't slow to respond to the fact that these same companies also still had their logos emblazoned alongside some of the country's most prestigious cultural institutions.
Art Not Oil, at this point focused mostly on curating its online galleries, as well as supporting other groups' actions, created a new gallery specifically for BP, called 'Burning Planet', as well as featuring the innovative Facing the Gulf project on its site.
PLATFORM began devoting more time to sponsorship issues, partly by mobilising within the art world, but also attempting to trigger a debate amongst funders: Its "Tate à Tate" project was an alternative audio tour of Tate launched in 2012, with sound works by commissioned artists: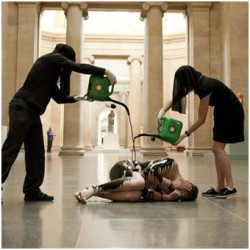 More visibly, Liberate Tate (LT) emerged in 2010 to create a series of powerful, often silent performances that circumvent traditional expectations of protest, and are helping to build a necessary affinity with artists who might be looking for ways to bring their creativity to bear on social and ecological issues. LT also devotes some of its energies to understanding the way the Tate organisation works, often working with members to use existing governance structures to loosen the connection between it and BP.
Then, with the announcement that the Royal Shakespeare Company had decided to welcome BP as sponsor of its World Shakespeare Festival during the 2012 Cultural Olympiad, it was time for the activist-thespian interface to leap into action. Claiming that 'action is eloquence', and managing ingeniously to reinvent Shakespeare for the modern, oil-blighted age, The Reclaim Shakespeare Company was born.
This RSC carried out a series of pithy interventions in 2012, often just as a play at Stratford or in London was about to begin, encouraging theatregoers to tear the BP logo from their programmes. Still active in 2013, it's fired up perhaps most by the knowledge that BP is investing heavily in Canadian tar sands, with the UK Tar Sands Network at the helm.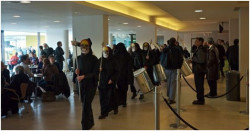 Meanwhile, conscious that all this focus on BP might be seen to be letting Shell off the hook, London Rising Tide carried out a series of actions focusing predominantly on Shell's relationship with the South Bank, including a visually and powerful collaboration with samba band Rhythms of Resistance when 'Grim Reapers' paraded through the 'oyal Festival Hall. A steady stream of one-off protests also helped to keep sponsorship in the public eye.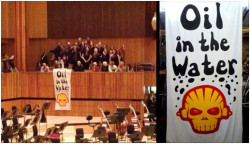 In March 2013, a group of musicians and campaigners formed the Shell Out Sounds (SOS) choir, to further blur the boundary between performance and protest. They have performed during the interval of several Shell-sponsored concerts, as well as in the Royal Festival Hall auditorium minutes before a concert in October 2013, resulting in applause. Then, in early 2014, Shell's sponsorship of this season of concerts was somewhat abruptly terminated, a victory which deserves to be celebrated jointly by the many groups that have sought to dislodge the company from the South Bank over the years.
Midway through 2013, the various groups working on innovative approaches to separating oil and culture decided to come together a little more formally. It seemed to make good sense to use the relatively well-established name and reputation of Art Not Oil to be the umbrella under which these groups could collaborate more closely and strategically, and promote their work more effectively.
There was one downside to this new coalition emerging, which was the end of Art Not Oil's time as a part of Rising Tide UK network of groups. However, the presence of London Rising Tide in the coalition means there's still a strong connection.
So, as it celebrates its 10th birthday in 2014, ANO is still chiselling away at that 'social licence to operate', sometimes also described as its 'extraction of our consent'. It's still our hope that with the right sort of inspired and concerted pressure, Big Oil will become persona non grata in sponsorship terms before the end of the decade. That would send its public image reeling, make it much harder for it to operate successfully, and help sow the seeds of a transition to a (more creative) post-oil way of life. We invite you to be part of our discourses, conversations, communications and performances, or of course to create your own.
You can read the full Art Not Oil history (with images) by downloading the PDF.
The archive of previous website content
All of the content from the previous Art Not Oil website, before we became a coalition in October 2013, is here.