Artists install 16m wind turbine blade in Tate Modern Turbine Hall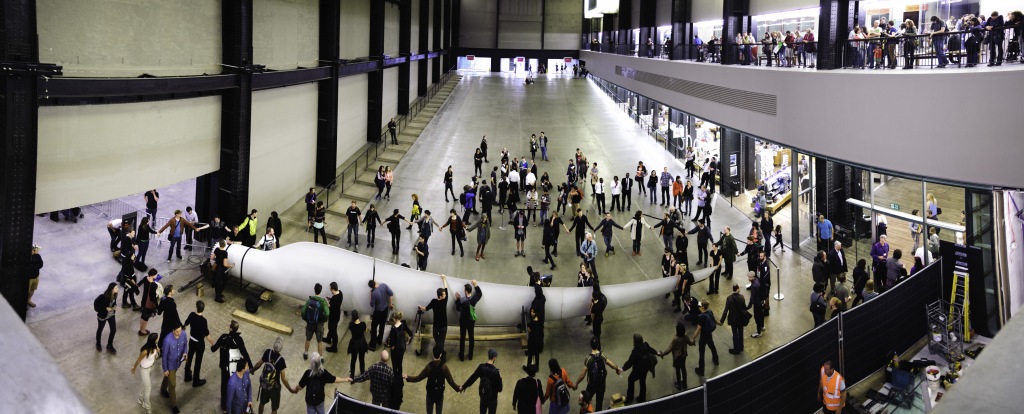 Photo: Ian Buswell
** Tate Modern considers activists' wind turbine for art collection
 http://www.guardian.co.uk/environment/2012/aug/30/tate-modern-activist-wind-turbine 
http://www.artlyst.com/articles/will-tate-modern-accept-protesters-guer…
http://artinfo.com/news/story/822359/moma-plans-killer-007-retrospectiv…
**
http://www.vice.com/en_uk/vice-news/liberate-tates-the-gift-tate-modern-art-prank-bp
Press Release - for immediate release 7 July 2012
Liberate Tate artwork 'The Gift' part of growing call for gallery to end links with oil company BP
NOTE: Pictures and footage of the performance are available for media.
For comment, information or images liberatetate@gmail.com / 07847 830164
Art collective Liberate Tate (www.liberatetate.org) has installed a massive 16.5 metre (40 foot), one and a half tonne wind turbine blade in Tate Modern's Turbine Hall Saturday (7 July 2012) submitting the artwork to be part of Tate's permanent collection.
The artwork, called 'The Gift', was installed in an unofficial performance involving over 100 members of the group that has become internationally renowned for artworks aimed at ending the relationship of Tate and other national cultural institutions with oil companies.
Sharon Palmer from Liberate Tate said:
"For more than 20 years Tate has been used by BP to present an image of corporate benevolence while the oil company has been involved in environmental and human rights controversies the world over. We're approaching an irrevocable turning point in our ability to address the climate crisis, so now is the time for Tate to look to the future and remove itself from the destructive heart of the fossil fuel economy. Liberate Tate has created this artwork using an icon of renewable energy with an express wish that Tate will have the courage to take leadership in addressing the threat of catastrophic climate change and end its relationship with BP."
A communique issued by Liberate Tate following the performance (see below) described the artwork:
"'The Gift', weighing one and a half tonnes, has been moved hundreds of miles from a Welsh valley, lovingly prepared and carried by hand by hundreds of people across London to be deposited in the Turbine Hall, a space where oil was once burnt to light this city: the journey of 'The Gift' bears witness to an epic of cooperation and points to a time beyond fossil fuels."
The group also submitted official documentation (see below) for the work to be presented as 'a gift to the nation', which means that Tate will need to decide through formal channels whether or not to accept the artwork as part of its permanent collection.
This year Tate confirmed in a reply to a Freedom of Information Act request that it has received more representations raising concerns about BP's sponsorship than any other issue since the oil company became linked with the gallery in 1990. Thousands have called in the last year alone for Tate to disengage from BP due to the devastating impacts of the company around the world to ecosystems, communities and the climate.
Chris Sands, a participant in the performance said:
"Tate is forcing climate-conscious gallery-goers into an uncomfortable position of complicity with BP, one of the most environment-destroying corporations on the planet. We've come together today to make a work of art that we hope will resonate with artists, art lovers and the wider public; people who care about the harm being done to by this oil company to affected communities, the world we live in and generations to come."
In addition to the catastrophic Gulf of Mexico spill, BP is also expanding into devastating tar sands extraction in Canada, is drilling in risky regions in the Arctic and as a company is responsible for more carbon emissions than the UK itself.
The Gift is Liberate Tate's fourth artwork in the Tate Modern Turbine Hall.
Pictures and footage of the performance are available for media.
For comment, information or images: liberatetate@gmail.com / 07847 830164
*** ENDS ****
Note to editors
Liberate Tate (www.liberatetate.org) is an art collective exploring the role of creative intervention in social change dedicated to taking creative disobedience against Tate until it drops its oil company funding. Contact: mailto:liberatetate@gmail.com
Twitter: www.twitter.com/liberatetate
liberatetate blog: http://liberatetate.wordpress.com/.
Liberate Tate previous works include:
 

'Human Cost': a performance in Tate Britain on the anniversary of the Deepwater Horizon explosion (April 2011) when a naked member of the group had an oil-like substance poured over them on the floor in the exhibition Single Form dedicated to the human body and part of 'BP British Art Displays'.
'Dead in the water': a contribution to Tate Modern 10th Birthday celebrations (May 2010) by hanging dead fish and birds from giant black helium balloons in the Turbine Hall.
'License to spill': an oil spill at the Tate Summer Party celebrating 20 years of BP support (June 2010).
'Crude/Sunflower': an installation artwork which saw over 30 members of the collective draw a giant sunflower in the Turbine Hall with black oil paint bursting from BP-branded tubes of paint (September 2010).

Gift to the Nation. Liberate Tate's 'The Gift' is a gift to the nation 'given for the benefit of the public' under the provisions of the Museums and Galleries Act 1992 (http://www.legislation.gov.uk/ukpga/1992/44/contents), the Act from which Tate's mission is drawn. See letter to Tate below.
Tate Modern is housed in the former Bankside Power Station designed by Sir Giles Gilbert Scott. This month (July 2012) sees the Tanks open as a new space at Tate Modern – what were originally huge industrial chambers containing oil that fuelled the power station until it was decommissioned in 1981.
Over 8,000 people signed an Open Letter to Nicholas Serota about BP (online herehttp://liberatetate.wordpress.com/open-letter-to-nicholas-serota/).
6. For more on oil and arts sponsorship see the recent publication by Liberate Tate, Platform and Art Not Oil, 'Not If But When: Culture Beyond Oil' available to read online here: http://platformlondon.org/p-publications/culutr/

Photo: Martin LeSanto-Smith
**************
Gift to the Nation: Letter to Tate  
Dear Sir Nicholas Serota, Director of Tate, and the Board of Trustees of the Tate Gallery,
We, Liberate Tate, make a gift of the artwork specified below to the Tate Gallery to become its permanent property.
Artist: Liberate Tate
Title: The Gift
Medium: Performance (wind-turbine blade, communiqué and performance documentation, including photographic records and video documentation [to be provided at a later date])
Date: 7 July 2012
1. Exhibition of The Gift should include all elements of the artwork: the wind turbine blade, communiqué and performance documentation.
2. We gift this artwork with the intention of increasing the public's understanding and enjoyment of contemporary art.
3. We understand that the material we are giving shall be available to curators and researchers as part of the Tate Gallery's public collection.
4. Being the sole owner of the material, we give this material (and any additions which we may make to it) unencumbered to the Tate Gallery.
Sincerely,
Liberate Tate
Date: 7 July 2012
Contact: liberatetate@gmail.com
*****************
Liberate Tate Communique: #3 The Gift (leaflet distributed at Tate Modern)
"It is easy to see," replied Don Quixote, "that thou art not used to this business of adventures; those are giants; and if thou art afraid, away with thee out of this and betake thyself to prayer while I engage them in fierce and unequal combat."
from Don Quixote, Miguel de Cervantes
Dear Tate
There may not be much to celebrate these days, but we have given you a gift anyway. This is perhaps the largest present you have ever received, the most unexpected and the most disobedient, the strangest and the hardest to get rid of. What we have given you is a new work of art, which like all the best works is wrapped in the selflessness of creativity, an act of gratitude that keeps on giving.
Despite recent reports that our biosphere is approaching a 'tipping point' where ecosystems are close to a sudden and irreversible change that could extinguish human life; despite years of creative protest and thousands of signatories petitioning Tate to clean up its image and let go of its relationship with a company that is fuelling catastrophe; despite all these things, Tate continue to promote the burning of fossil fuels by taking the poisoned 'gift' of funding from BP. This is why today we have given you something you could not refuse.
The law of this island requires that all "gifts to the nation", donations of art from the people, be considered as works for public museums. Consider this one judiciously. We think that it is a work that will fit elegantly in the Tate collection, a work that celebrates a future that gives rather than takes away, a gentle whispering solution, a monument to a world in transition.
'The Gift', weighing one and a half tonnes, has been moved hundreds of miles from a Welsh valley, lovingly prepared and carried by hand by hundreds of people across London to be deposited in the Turbine Hall, a space where oil was once burnt to light this city. The journey of 'The Gift' bears witness to an epic of cooperation and points to a time beyond fossil fuels.
Resting on the floor of your museum, it might resemble the bones of a leviathan monster washed up from the salty depths, a suitable metaphor for the deep arctic drilling that BP is profiting from now that the ice is melting. But it is not animal, nor is it dead, it is a living relic from a future that is aching to become the present. It is part of a magic machine, a tool of transformation, a grateful giant.
What we have brought you is the blade of an old wind turbine, sixteen and a half metres long, beautifully sharpened by the weather. It is a blade to cut the unhealthy umbilical cord that connects culture with oil, a blade that reminds us that when crisis comes, when the winds blow strong, the best thing to do is not to build another wall but raise a windmill…
Yours, in gratitude,
Liberate Tate

Photo: toastyoneuk (http://www.flickr.com/photos/toastyoneuk/)