'We create fake "Stonehenge drilling" exhibit inside BP-sponsored British Museum'
From our esteemed friends at BP or not BP:
https://bp-or-not-bp.org/2022/02/20/we-create-fake-stonehenge-drilling-…
Today at 11.30am, members of the activist theatre group BP or not BP? set up a mischievous extra exhibit inside the British Museum: a spoof corporate presentation showing BP's "drilling plans" at Stonehenge. Dressed in suits, with a professional-looking banner depicting the fake scheme, the performers are pretending that BP isn't just sponsoring an exhibition about Stonehenge – it's actually planning to drill for oil there.
Performance activists posing as BP staff present fake "Stonehenge drilling plans" to visitors inside British Museum
Spoof corporate banner shows oil rigs and pipelines at the ancient monument, with the words "Are you ready for BP at Stonehenge?"
Action aims to highlight the hypocrisy of BP sponsoring a Stonehenge exhibition while its operations in Australia are damaging ancient Indigenous rock art ten times older than Stonehenge
Action comes after Channel 4 News reveals British Museum is pursuing new BP contract despite widespread opposition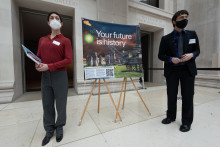 The action took place on the opening weekend of the new BP-sponsored "World of Stonehenge" exhibition. The performers took over a space just outside the exhibition, inside the museum's Great Court. 
The parody exhibit included a photorealistic image of drilling rigs and pipelines at Stonehenge. It also included a label explaining that – while BP isn't really planning to drill at Stonehenge – the idea isn't as far-fetched as it appears, as BP's drilling operations are causing irreversible damage to ancient cultural sites elsewhere in the world.
The full text on the banner label reads: 
The future meets the past. Are you ready for BP at Stonehenge?
Here at BP, we're proud to sponsor the British Museum's Stonehenge exhibition, and are excited to share with you our future plans for this ancient and revered site.
OK, so BP isn't really planning to drill for oil at Stonehenge. But the idea isn't as far-fetched as you might think. On the Burrup Peninsula in Western Australia, BP is involved in a drilling project that's been damaging ancient Indigenous rock art ten times older than Stonehenge. BP now wants to expand the project with a new fossil gas field that would worsen the damage. If there's money to be made, BP is happy to trample over culture and history – at least, if it thinks it can get away with ignoring the people it's affecting. That includes everyone affected by the climate crisis, because BP is planning to dig up more oil and gas than the world can afford to burn. Why is the British Museum promoting this company?
Alongside the hoax BP representatives, other members of the group showed visitors images of the incredible Murujuga rock art in Western Australia, which has suffered significant damage from the huge Burrup Peninsula gas extraction project part-owned by BP. BP is now pushing to expand the Burrup Hub LNG plant on the site, despite warnings that emissions from the project could destroy the world's largest collection of Indigenous rock art within 100 years.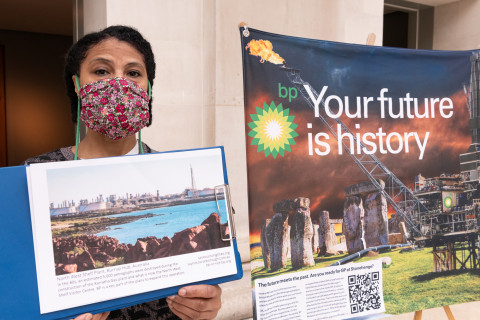 A performer shows an image of BP's real-life gas extraction operations in Western Australia, which are sited amidst extraordinary ancient Indigenous rock art. Photo by Ron Fassbender
Josie Alec, a Kuruma Marthudunera woman whose cultural heritage, the Murujuga Rock art, is being slowly destroyed by BP's LNG facility in Western Australia said: 
"We have big industry sitting on our Country every day, polluting our air, killing our animals, killing our plants and killing our Songlines. The Murujuga rock art is sacred like Stonehenge – and even older. This place is the world's oldest creation story. BP have connections to the Karratha Gas Plant and a footprint here. They shouldn't: the footprint belongs to the Ngurrara people."

Today's action comes hot on the heels of the revelation by Culture Unstained that the museum's Director, Hartwig Fischer, is in advanced discussions with BP over renewing their partnership, despite growing opposition from key stakeholders. This week, over three hundred archaeologists and historians have written to the museum's trustees, calling on them to drop BP. The contract could potentially be renewed within the next two to three months.
Also this week, a damning report by Channel 4 News revealed details of the museum's secretive 'Chairman's Advisory Group', which operates almost entirely unaccountably and gives leaders of major corporations – including BP – direct access to the museum's decision-makers.
BP's expansion plans at Burrup Hub would help to create the largest fossil fuel extraction project in Australia, at a moment when the International Energy Agency has stated that the world can afford no new fossil fuel projects if we want to keep global heating below 1.5 degrees. A major study this week found that BP's claims of going "net zero" are not being matched by its actions and were essentially greenwash.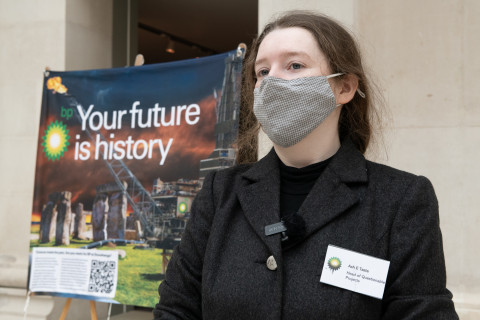 Deborah Locke, a member of BP or not BP? taking part in today's performance, said: 
'It's beyond ironic that BP is sponsoring an exhibition of ancient art, while simultaneously pushing forward with destroying one of the largest, densest and most diverse collections of ancient artworks in the world in Australia. How can the British Museum even be considering renewing their partnership with this cultural and ecological vandal? It's time the museum stopped cosying up to its corporate buddies and acted to preserve the world's climate and cultural heritage.'
BP or not BP? have launched a new petition calling on the British Museum not to renew the BP sponsorship, which can be found here.